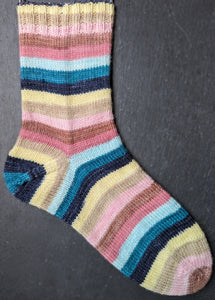 This is the 2023 show colorway for the Super Summer Knitogether market!

The colors in this 8 color repeat are inspired by the beautiful outfits worn by the character Rebecca Welton in the Ted Lasso series. From her camel coat worn to the matches, to her ice blue sleeveless blouse, to her buttery pouffy sleeves, and even the pink pastry box from Biscuits with the Boss.

Rebecca's character is strong, vulnerable, talented, loving, generous, and above all - she's a Boss Ass Bitch. I love her character. Have y'all seen the show??
Please note:
Tonal mini skeins are an optional additional purchase and are not included in the price of the self-striping skein.